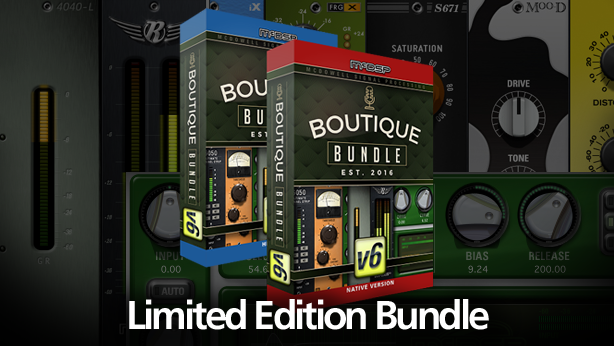 Mountain View, CA – December 1, 2016


McDSP Introduces The Boutique Bundle For Limited Time
McDSP introduces the Boutique Bundle, which includes the award-winning 6050 Ultimate Channel Strip, Analog Channel, and the 4040 Retro Limiter. The Boutique Bundle is more than just 3 plug-ins, it's an expansive collection of vintage and modern effects that includes compressors, equalizers, distortion effects, tape machine and channel amplifier emulations, a vintage limiter and more!  
The award-winning 6050 Ultimate Channel Strip incorporates 28 different processors into a CPU efficient and easy to use 3 bay lunch box style drag and drop interface.  Analog Channel is comprised of 2 plug-ins, the AC101 (channel amplifier) and AC202 (tape machine) for adding warmth and glue to individual tracks or mix busses. The 4040 Retro Limiter will easily maximize overall signal levels while maintaining a vintage vibe by using McDSP's own Analog Saturation Modeling.
The Boutique Bundle is only available through December 31.  After December 31, the Boutique Bundle will no longer be available for purchase. 
For more information about the McDSP Boutique Bundle, please visit www.mcdsp.com.
Company Statement
McDSP is an innovative and award-winning Silicon Valley audio software company founded in 1998 by Colin McDowell.  McDSP technology can be found in pro audio plug-ins for popular digital audio workstations including Pro Tools, Logic, Cubase, and Avid live sound systems. McDSP audio algorithms are also used by companies such as Audiokinetic, Bioware, and Microsoft, and in consumer products like the LouderLogic iOS audio player.