The Crystal Method, Ken Jordan and Scott Kirkland have been fixtures on the electronic music scene for more than 10 years. Over the course of four studio albums and two mix records, the band has cemented its reputation through successful collaborations with rock heavyweights and years of touring, both as a live act and as DJs. Two Grammy nominations for 2004's Legion of Boom and 2009's Divided by Night, the duo has recently scored both their first feature film, London, the theme to Fox's series Bones, and an innovative runners' soundtrack in partnership with Nike. Other hallmarks for the band have been the commemoration of the 10-year anniversary (and platinum certification) of their momentous debut album Vegas as well as the release of their fourth studio album, 2009's Divided By Night which features collaborations with artists such as Matisyahu, Peter Hook (New Order), Emily Haines (Metric,) Jason Lytle (Grandaddy) and Justin Warfield (She Wants Revenge.)
We catch up with Ken and Scott in their Hollywood studio where they are working on music for their upcoming album, and share with us some of the work they have done for film, video games and television. I'm not exaggerating when I say we've used Analog Channel on practically every project over the last 12 years.Dipping into so many creative avenues, The Crystal Method currently seems to be enjoying scoring for films at this time.
Ken and Scott have been using the McDSP plug-ins for over 10 years. "We are amazed by the quality of sound, the low-latency and ease of use. The Emerald Pack is one of the most comprehensive plugin collections on the market today and plays an essential part in our creative and production process."
"FilterBank was our first purchase and it made quite an impression on us. FilterBank has the unique ability to give us complete control of the frequency spectrum and allowed us to create some intense moments on tracks like PHD, Name Of The Game and especially The Winner where we used FilterBank on practically every channel. Since then, it's been one of our favorite EQ/Filters." Scott opens a session up to a project they worked on in 2010 with Tom Morello and his Street Sweeper Social Club. It literally has McDSP plug-ins all over it.
"Another one of our absolute favorite plug-ins is Analog Channel. People often ask how we get our drums and beats to sound so huge. Since we've always sourced our drum sounds from a combination of live and sampled hits it's sometimes hard to give the drum mix a cohesive 'one room' sound. That's why we're huge fans of Analog Channel. Whether on the drums, an instrument group or master bus, Analog Channel can tame the bottom end, add the right amount of punch and warm the coldest digital signal.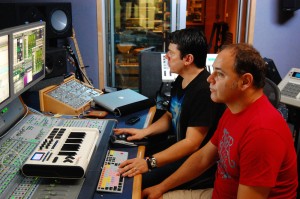 I'm not exaggerating when I say we've used Analog Channel on practically every project over the last 12 years."
"Lately we have been playing with FutzBox, and we are loving it. It's probably one of the funnest audio processors out there today. FutzBox played a major role in a piece we just scored for a BIG movie coming out in the fall of 2011. Since it was added to Emerald Pack, we've used it and have been blown away by it's superior ability at low fidelity." Again Scott pulls up session after session loaded with FutzBox examples. One of the sessions has a video. It's a short clip from the movie they referenced and it's amazing. The drum kits and synths sound fantastic through FutzBox and fit perfectly in their mixes adding just the right punch and feel. They are using all sorts of FutzBox SIMs, everything from computer speakers, toys and even the Globe AM radio that you can see on the header graphic of Colin's FutzBox article.
"We've also had a lot of fun with the Synthesizer One. It's combination of wave tables & oscillators, and it's highly capable modular design can lead you to ground shaking basses and synthetic walls of sound. We've used it on a few tracks off of our 'Divided By Night' album and found it to have extremely low latency and be endlessly creative."